Thank to Michael Child, below is a picture from the Merrie England Amusement Park of Midget Town, which provides the most likely source of yesterday's mystery as to the whereabouts of the Midget houses: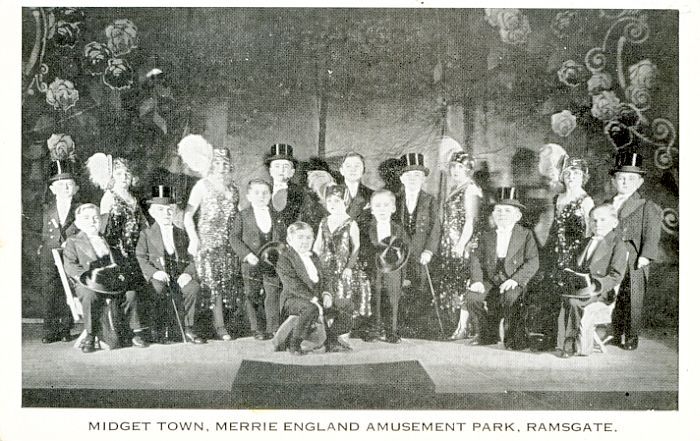 If there was a permanent troupe at Merrie England, then their accommodation would have been built to scale, and even formed part of the entertainment (in the older 'look at these strange folk' style of entertainment before we all knew better, obviously).
This was not unique. Below is a picture of the 1948 Midget Town in Hull in 1948.
From 1927 to 1930 the Roof Gardens in Blackpool was also Midget Town, which included a sports club, town hall, post office and garage. It was 'populated' by a troupe of midgets. I can't find a picture yet, though.
There was another at the Glasgow Exhibition of 1938:
and a several listed in the
Rides and Shows list for Coney Island, New York
.
Clearly scope for some serious research here, but it'd be nice to find some more pictures of our local experiences - interiors of Merrie England, or what else might have been built in to the cliffsides behind it? Watch this space...
And one more thought: many of the 'midget towns' like the ones photographed above were fairly temporary structures, for exhibitions or even travelling fairs, so perhaps inside Merrie England is the most likely location after all. Who has the pictures of inside Merrie England then?